Meet the Web
Podcasts
Starting from this version player has built-in podcast support, so it's no longer necessary to find a plug-in, download it and install it yourself.
Clouds
Also, like the plug-in for podcast support, the MyClouds plug-in, which allows you to play files from cloud storages, is now shipped with the player.
Capabilities:
Full integration with music library
You can download a file(s) via drag-n-drop
Smart caching
Song lyrics are supported that are presented as separate files
CUE support
Support of the Cloud@Mail.ru, OneDrive, DropBox and Google Drive services
Support for the WebDAV-based services (including: Yandex.Disk, 4shared, OpenDrive, ADrive, Box, pCloud and DriveOnWeb)
Last.fm
While doing web service support I couldn't bypass the plug-in for last.fm service. It now has a few much-needed improvements:
In the dialog box showing current track information were added the number of tracks played and information about similar artists:

The scrobbling status is now displayed with an icon in the notification area along with current track information. If a track is successfully scrobbled there's a green indicator above the icon:
Now you can specify which tracks from which folders shouldn't be scrobbled, and also stop the scrobbing of tracks from Internet radio.
Sound Engine
Speed
The maximum play speed and tempo has been doubled.
Playback Settings
Also, as with the v2.80 for Android, the playback settings have been expanded with "go to next track and pause" options, which DJs might find useful.
Volume
The volume normalization tab in the sound effects manager was renamed "volume," and  remaining volume control options were transferred here: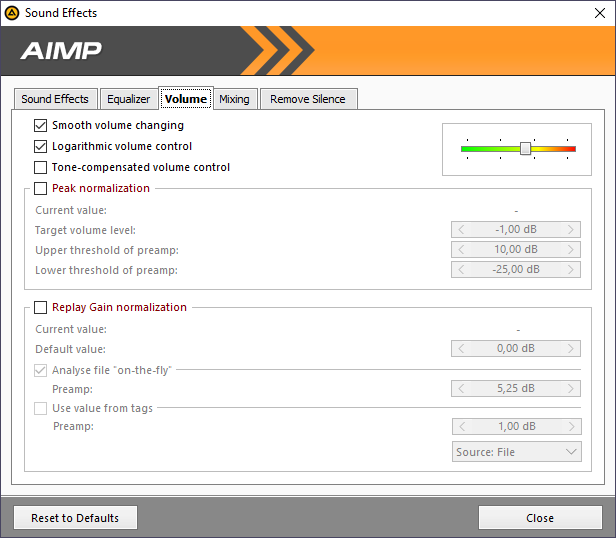 From the effects manager you can now change both the volume and the adjustment type, as well as the smoothness of its application. Pay attention to this new option: v4.60 now has tone compensation support during volume adjustment
Silence Deletion
With this version were added parameter settings to remove silence:

Here you can specify a sensitive threshold for the module, and also a minimum quiet signal duration, after which deletion starts.
Channels re-mapping

The "Allow channels mixing" option was expanded with the channel re-mapping feature that allows the user to customize the scheme for mixing channels: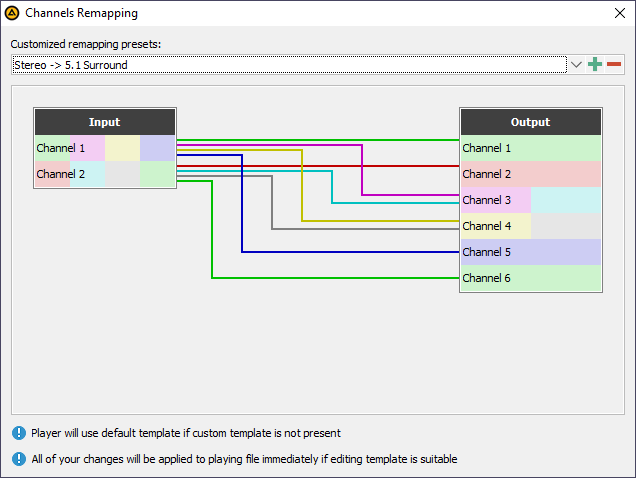 By clicking the link you can open the volume level editor, where you can specify how much the source channel influences the results: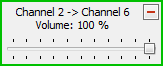 Note that every source channel can influence several resulting channels, just as each resulting channel is composed of several source channels with various coefficients of influence.
If a template is not specified by the user, the player will use its own template, so it's not necessary to set templates for all possible combinations.
All changes you make with the editor are immediately applied (provided that the template is applicable to the current track). This way you can adjust the sound according to your acoustics, and in real time.
Audio Converter
Surely you've been in that situation when while converting a large number of files all of a sudden you needed a PC, and all of its resources were occupied by the audio converter? This version allows you to put the audio conversion process on pause: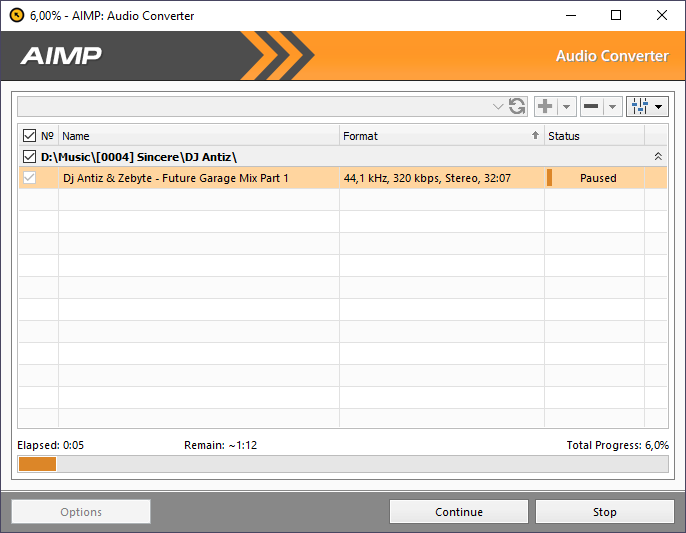 _
Tag Editor
Interface
The expanded tag editor interface was redesigned: at the top there are only command buttons for working with a group of files, and all information regarding a selected file is concentrated in a panel of the same name below: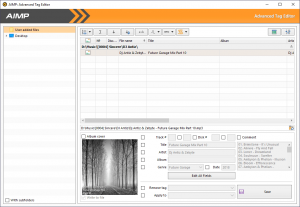 Along with convenience, these changes allow you to have a vertical layout of editors, which users have wanted for a long time: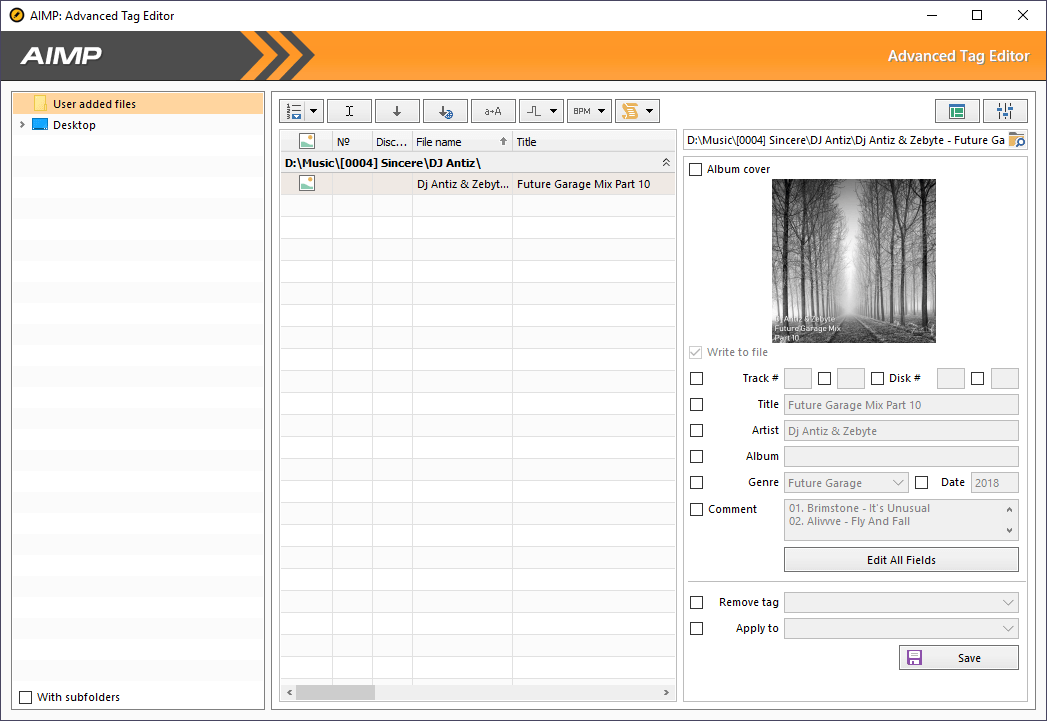 The button located prior to the settings button allows you to switch between horizontal and vertical editor layouts.
In-place expressions
In v4.60 we have introduced in-place expressions that can be used as value for tag field, and allow you to calculate target tag field value based on one or more tag fields values.
To enable in-place expressions functionality refer to Options dialog of the Advanced Tag Editor and switch the "allow in-place expressions to pre-process tag fields values" option on. After doing it, you will see new menu item in context menu of the tag field: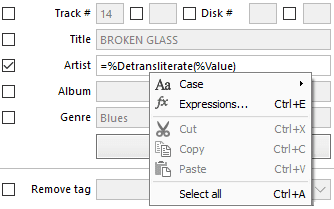 Expressions editor can be invoked via the item in context menu of tag field or via hotkey.

Expression must be started from the "=" character otherwise it will be processed by tag editor as plain text.
Batch Files Processing
The function for file batch processing has been expanded with two new commands: automatic search and downloading of album covers and song lyrics for selected files. As with working with a single file, the search function relies on complete "user" and "song name" tag fields. The search is conducted through installed plug-ins. (by default these plug-in are for Last.fm and Weblyrics).
Tag Auto-Fill
The new version of the tag editor has fully automated tag filling for audio files using online services: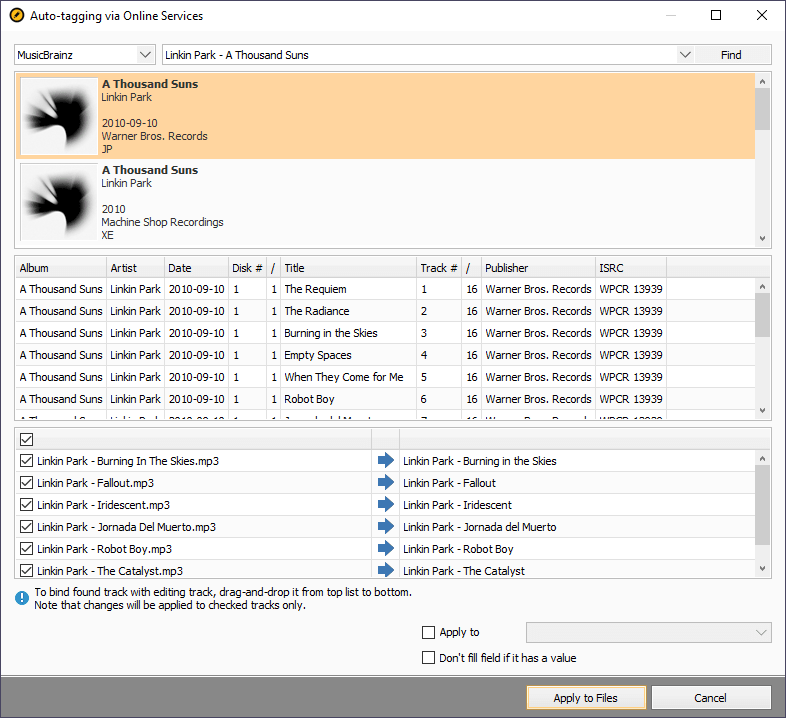 How does it work? You specify user and album name as a search string, and the service returns a list of found albums, and to see a list of tracks on an album and to assess search results, just click on the album icon in the list. The tag editor automatically associates found files with those files chosen for editing. Of course you can specify the association yourself: simply drag a recording from the top list to the bottom one using the mouse. Then just click "apply to files".
It's important to note that various databases provide different information about album tracks. Sometimes it might be useful to download the same file from several services to gather as much information as possible about tracks.
Currently the following services are supported: Music Brainz, Discogs и Last.fm.
* * *
Public beta-testing will be started in January 2019.